We conducted a poll from all our Creative SEO supporters and asked them what they felt were the most shocking sporting moments of 2010. In the poll, we asked people to just list their three sporting moments. Overall soccer was a big one with some people saying that England's performance in the 2010 World Cup should be in there. Funnily enough it was an English moment that is in the top three. So, without any further adieu, let us see what the three most shocking, sporting moments of 2010 were:
Golf

– The Tiger Woods affair ("Tiger Woods Affair" 90, 500 searches a month)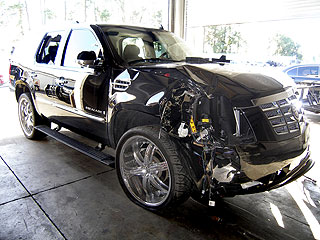 This was a year that blew the Golfing world apart. Tiger Woods, the American dream, has his affairs made very public by the very people that he had them with. The allegations about Woods' infidelity came to light when he crashed
Cadillac SUV
outside his Florida mansion after a row with 30-year-old Nordegren. There was the February press conference in which he delivered a melancholy series of apologies to everyone he knows and his divorce was suggested to cost anywhere from $100m to a huge $750m. Nike, one of his biggest sponsors, realised a video (produced by Wieden+Kennedy) in which, "Earl asks his son Tiger a few questions before Tiger's return to golf."
Soccer

– Frank Lampard's disallowed goal ("Frank Lampard disallowed goal" 320 searches a month)
We could have put the whole team in here, from what the feedback said. We decided to look at specifics and in this case it was the disallowed goal from Frank Lampard's effort, against Germany, in the 2nd round of the 2010 World Cup. The biggest heartache of the goal that never was, is that 2 minutes before this an English defender,

Matthew Upson, had

just scored with his head

to make it 2-1. Lampard then took his half-volley - from the edge of the area - and watched as it clearly went over the line. The referee,

Jorge Larrionda

did not think this was the case and let play carry on. England went on to lose 4 - 1.
Some conciliation for England is that many of the matches were deemed unwatchable due to the (alleged) excessive use of the Vuvuzela. Perhaps these are what distracted Jorge Larrionda from seeing Lampard's effort cross the line?
It was a day that most people would not worry about switching their TV's on for. It was Wimbledon's Court 14 match, on Day 1 of the world famous tournament. But by the end of the second day, the court 14 match was crowded out. Why? Well, American John Isner and France's Nicolas Mahut fought to a 59-59 fifth set draw. By day 3, every game was televised and people really did start to switch over. It became (officially) the longest match in Grand Slam history. Mr Isner won 70-68 but his success was short lived as he then lost in the second round.
Good luck to all sports persons and stay healthy, faithful and sharp for 2011!